IT recruitment tips: Opinion poll reveals how to attract IT leaders
Before lockdown commenced, Crimson's Senior Appointments Practice launched a series of LinkedIn Polls to capture the opinions of IT leaders. The first poll is based on what motivates senior IT professionals such as IT Directors.
Flexible working is more of a strategic move than an employee benefit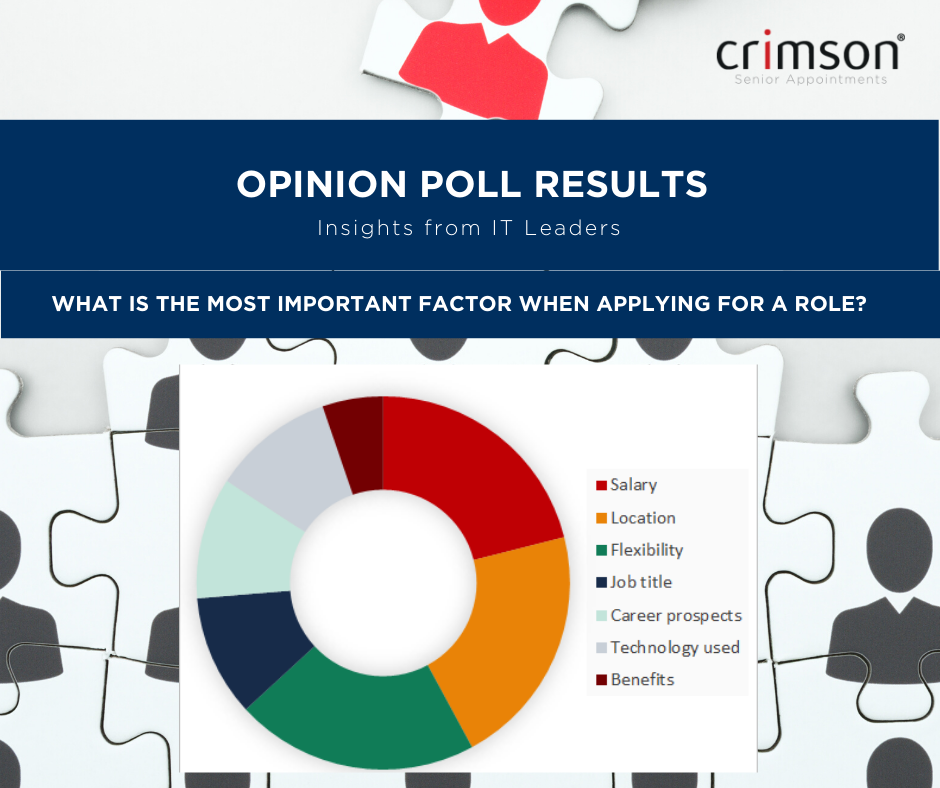 Salary, location, and flexibility matter most to senior IT professionals.
"We have noticed a shift in attitudes since the pandemic, salary is less important, and there is more emphasis on location and flexibility. COVID has highlighted the need for work to fit around family life. People often confuse flexibility and remote working; they are two different things. The future is more about output than hours."
Chris Butler, Senior Appointments Practice Lead, Crimson
Today's consumer is looking for a personalised service that is customisable. Employees are no different. Working with employees to develop a personalised schedule and customisable benefits gives employees more ownership and makes them feel valued. Flexible working is also known to increase productivity, creativity, and wellbeing.
Crimson recently conducted a nationwide survey to understand the impact of COVID-19 on technology departments. Survey respondents revealed their workforce is now more likely to work from home, and over 70 percent are expected to hire remote workers. While this could increase competition for remote workers, face to face communication will still be paramount for those in senior positions. Therefore, being located closer to home could become crucial for employees that want to improve their work-life balance.
Candidates want a swift and rewarding application experience that harnesses technology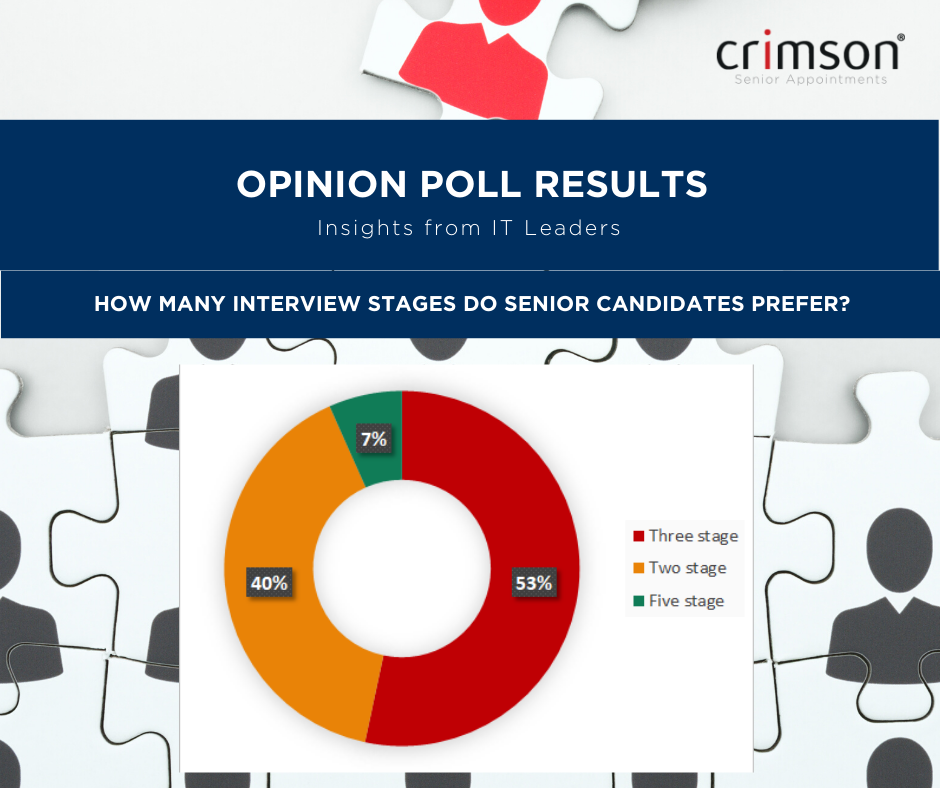 The three-stage interview is a common denominator with many clients who are recruiting for C- level professionals.
Every process is dependent on the hierarchy of the company, and the skillset required; however, Senior Appointments Practice Lead, Chris Butler, recommends the following.
One-hour video interview/competency testing, with approximately five candidates
Ninety-minute presentation, with approximately three candidates and stakeholders present
One-hour face to face interview with two individuals and involvement from the immediate team.
"Video is an effective tool for the first two stages of the process. The pandemic has caused a spike in video interviews with many clients suggesting they will continue to use video technology."
Vicki Smith, Senior Appointments Practice Researcher, Crimson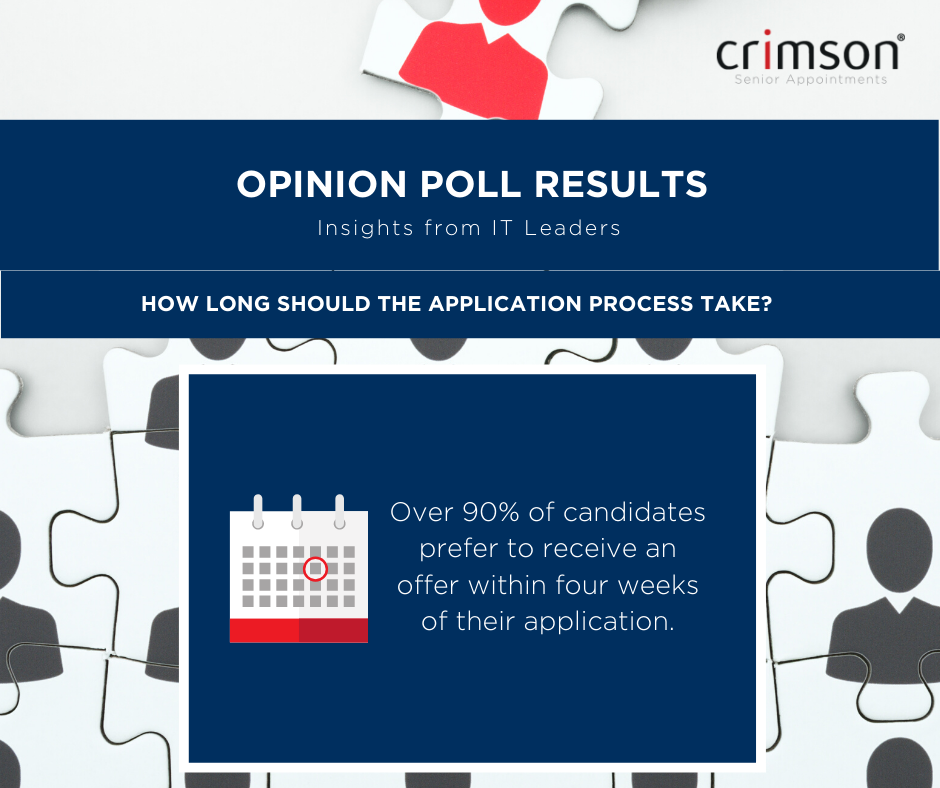 While four weeks may be the ideal time frame for candidates, in reality, senior hires take between four and eight weeks. In the coming months hiring may become competitive as businesses search for transformational leaders to help them navigate the new landscape. To ensure candidates don't lose interest halfway through the process, organisations need to place more emphasis on candidate care. Candidates are much more likely to consider a potential employer that has delivered a diligent, rewarding applicant experience.
"As specialists in Executive Search, we have a pool of candidates and contacts that we hold a lot of information on. We conduct our own interviews and shortlisting before we put candidates forward, this can help to reduce the hiring time frame. What's key is keeping both the client and the candidate up to date. For example, we update our clients with graphical information about their search progress. Our candidates are hugely important to us; they are some of the best IT leaders in the UK. They're our customers but also part of our network that enables us to find the best talent."
Vicki Smith, Senior Appointments Practice Researcher, Crimson
Senior IT professionals are business leaders not technical masterminds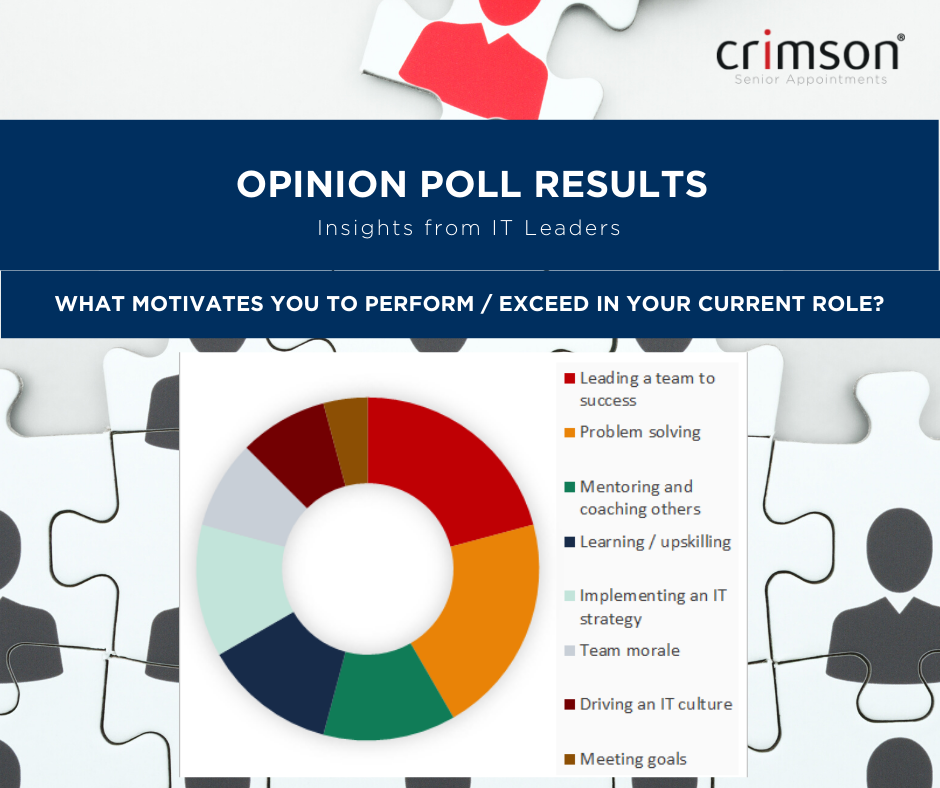 The top three answers include leading a team to success, problem-solving, and mentoring others.
Developing others is a key motivator for IT leaders. If your organisation has a fantastic appraisal system or a mentoring scheme, be sure to shout about it.
Total Jobs claim that the most transferable skills for jobs in IT come from the world of business, which includes a range of skills such as project management, negotiation, and teamwork.
"Some of our clients are asking for leaders with transferable skills and sector knowledge. Today's CIO will not thrive on technical skills alone. It's important for organisations to regularly map out the skills that are needed for a role and compare different types of candidates."
Chris Butler, Senior Appointments Practice Lead, Crimson
Company culture is more important than benefits
IT leaders gain satisfaction from solving problems and transforming organisations. Therefore, an employer that can demonstrate a positive attitude towards change is a must.
Benefits scored poorly throughout the poll. Benefits tend to feature on most job adverts. However, unless they're great, why list them? It is better to communicate the culture of the organisation, which is more likely to attract candidates. To understand how attractive your benefits are, survey your staff, review their usage, and look to your competitors.
Crimson works with clients to showcase their culture in recruitment campaigns by using professional videographers - brand elevation service.
Crimson is an IT consultancy, an IT solutions provider, an IT recruitment agency, and a Microsoft Gold Partner operating across the UK.