As an IT recruiter that specialises in the FinTech and banking sectors, I love to follow the innovations and developments at the start-up end of the market.
Six months ago, I met the founders of personal finance management tool ApTap at Crimson's GinTech IT networking event (click here to view future events), and I was really struck by their offering. ApTap auto-syncs securely with users' bank and email accounts and enables them to visualize, signup to, cancel, and share any service or subscription, with just a tap.
In a previous article, I interviewed them about the concepts behind their idea. You can read all about it here: 'Crimson meets ApTap: The fresh face of UK FinTech'. I caught up with them last week to learn about the progress they've made over the last few months.
The co-founders of ApTap are:
Here's what was discussed when I met the ApTap founders.
Me: "What has changed for ApTap since we last met?"
Nadal: "We have made some big moves. We have managed to build our app and release the beta, as of Friday night (12 October 2018). Now we're looking to release to our mailing list, which consists of about 500 people. So, we will start slowly approaching each group about the developments."
Me: "What have been the most exciting developments?"
Will: "It's hard to say. The biggest thing is having a tangible product on the device in your hands. Going from a brainchild a couple of years ago, to now where I can link a bank account and see my payments feels huge. We are about to start to take the next steps in our product development."
Me: "How was the process of readying ApTap for iOS?"
Isa: "That was actually a painful process because we figured out a week before we were supposed to release it that our screens weren't iOS compliant, and we had to go through a whole scramble of getting them iOS compliant before finishing the MVP."
Nadal: "So, we took a new approach. The design still worked, and Apple have accepted it. We are now looking to launch it on the app store in the next couple of weeks."
Me: "How are you planning to drive adoption?"
Will: "I guess there are a few sides to it. Number one, we are going to need the money to build a full-scale product. That will require getting investment. We have had one investor commit but we are also looking to raise £500,000 towards the end of November.
"As Nadal mentioned, we have 500 people on our waitlist for this product and as we receive feedback, and do more and more testing, that will enable us to make improvements. Then we will be able to go to investors and say 'Hey, we've got this many people using it. We've got great feedback so far. Give us your money'."
Me: "How are you collaborating with Open Banking?"
Isa: "It's been great so far. We've managed to enrol with Open Banking and we've managed to connect to their 'fake bank'. They basically have a sandbox which mimics banks and you can test transactions and the rest of the open banking environment. It enabled us to start building on Open Banking without having to go live.
"They have meetings every Thursday. These have been extremely useful because we've been able to meet all the other TVPs that are working with Open Banking. And, the meetings enable us to make contact with other people working with the banks, who are implementing these APIs. So, we know where Open Banking is going in the future."
Will: "The FCA application is in the pipeline. It should be submitted within the next few weeks. We've also added Rachel Gentry from Open Banking onto our advisory board and she has been helping to highlight and mitigate high-level risks."
Me "What will 2019 hold?"
Nadal: "It's the year for ApTap. We're launching. We're here. We're looking to expand our team. We're looking for investment. We're looking to get more users on-board. This is just the beginning. And the prospect of Open Banking for ApTap looks very bright."
If you would like to engage with Crimson's FinTech ecosystem, click here sign-up to attend our next VinTech IT networking event.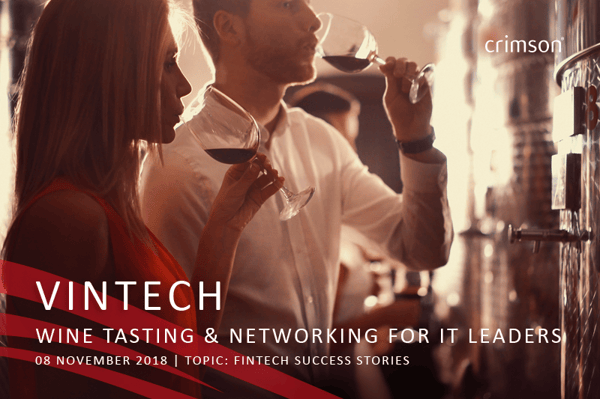 Crimson is an IT consultancy, an IT solutions provider, an IT recruitment agency, and a Microsoft Gold Partner operating across the UK.