This month Crimson's Senior Appointments team approached our network of C-level technologists to get the low down on their attitude towards professional development.
Qualifications are the most popular form of learning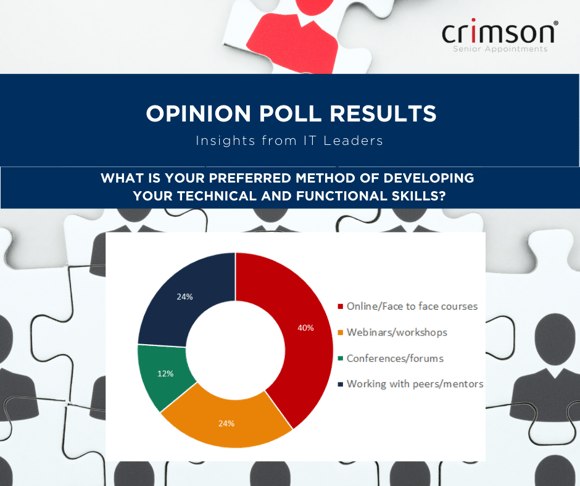 Perhaps it's the sense of achievement or the certification that we can add to our CV, but qualifications were by far, the most popular option for developing our functional skills.
Earlier this month CIO.com published their course recommendations for IT managers which include:
AMA Certified Professional in Management
Certified Associate in Project Management (CAPM)
Certified in the Governance of Enterprise IT (CGEIT)
Certified ScrumMaster (CSM)
Certified Information Systems Security Professional (CISSP)
Certified Information Security Manager (CISM)
COBIT 5 Foundation
CompTIA Network+
CompTIA Project+
Information Technology Infrastructure Library (ITIL)
Microsoft Certified Solutions Expert (MCSE)
PMI Agile Certified Practitioner (PMI-ACP)
Project Management Professional (PMP)
Six Sigma
TOGAF 9
You can read more about each course, in the article here.
Chris Butler, Senior Appointments Practice Lead, commented:
"Even when you're not looking for a new role its good practice to read job descriptions and check out the LinkedIn profiles of others, this will give you an idea of the qualifications you might want to explore. Consider the top trend predictions and search the net for any new courses that may have been developed in response to these trends. Don't be afraid to ask your current employer for funding, most employers have a training budget available, and many will contribute towards your learning."
Working with others, such as mentors scored just as favourably as webinars and workshops. 'Webinar fatigue' is now a popular term as dozens of free webinars flood our inbox's. We've even seen advice on LinkedIn on how to prioritise webinars according to your goals. Experience is also a huge factor as organisations try to keep audiences engaged. Over 250 people have attended our CIO workshop over the years, and fortunately, our attendees have found the online workshops more convenient. Podcasts like Tech Talks have grown in popularity.
Is there any substitute for observing others and receiving personal advice from mentors? When your organisation doesn't have a mentoring system in place, LinkedIn is a great place to start looking, not just the people you know but those that inspire you. You would be surprised to know how many people actively mentor others and don't shout about it. Mentoring can be a formal or informal affair; you need to understand your strengths and weaknesses against your companies objectives, to know where you need help. You will need to discuss your expectations with your mentor to ensure you're both on the same page. These days it's not uncommon to have more than one mentor so you can ask the expert across a wide range of disciplines.
Conferences and forums, were the least popular choice despite many of us admitting that we miss networking with others. Leaving the office/home office environment can inspire creativity; however, developing our next steps after visiting a conference is key. Most physical events have diminished during COVID-19, Microsoft is suggesting that their conferences will never return to a physical setting.
Staying up to date and informed is what drives our desire to learn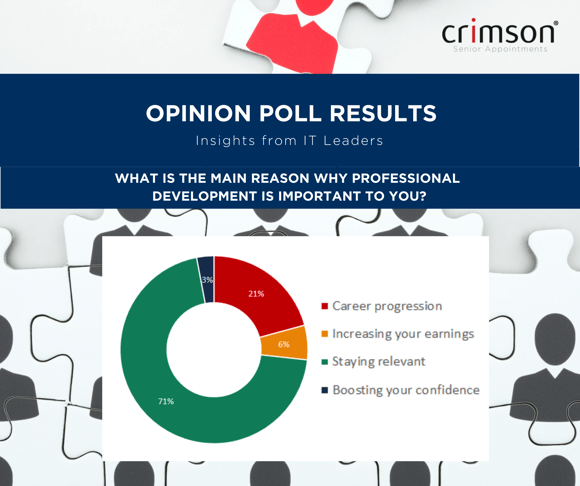 Over 70 percent of poll respondents indicated that keeping abreast of developments was their main reason for adopting a growth mindset. As with our previous polls earnings rarely motivate technology leaders.
Time is precious, but IT leaders do devote the hours
If we take the average of each top answer two hours and five hours a month, in webinar terms this translates to an average of at least one webinar a week. Perhaps those studying for qualifications are the individuals that spend days as opposed to hours. It would be interesting to see whether those that spend more time on professional development have progressed quicker or feel more informed? Are these hours part of the typical working day, or is there additional learning happening at weekends?
As well as taking the time to get to know the technology, how much time are C-level technologists spending on their developing their soft skills? A recent survey global CIO survey by Harvey Nash reported that tech leaders would need a unique set of personal qualities to help them navigate the new normal, including collaboration and emotional intelligence.
Chris Butler, Senior Appointments Practice Lead, commented:
" Set smart objectives, and turn these into an action plan, build learning into your daily routine, using strategies such as speed-reading or mind mapping. As we move into 2021, technology will be at the forefront of competitive advantage, therefore today's digital leader needs to be an excellent communicator and able to influence."
So, we will end with some homework, check out one of these epic leadership reads as recommended by Crimson's Head of Academy Training, Cat Halstead.
Contact chris.butler@crimson.co.uk for the latest market info, salary guidance, and help with your senior executive appointments.
Crimson is an IT consultancy, an IT solutions provider, an IT recruitment agency, and a Microsoft Gold Partner operating across the UK.