Microsoft acquired Adxstudio in 2015 for its compelling customer engagement features and, over the last two years, has natively built them into Microsoft Dynamics 365. During that transition, Microsoft continued supporting the legacy Adxstudio Portals v7 product. But support for Portals draws to an end on 1 August 2018. Let's explore where to turn next.
Your transition options
With these important changes to legacy Adxstudio Portals v7, there are three options for your organisation to consider going forward:
Migrate to Microsoft Dynamics 365 – Portals – a new service that is part of the Microsoft Dynamics 365 online offering
Use Microsoft Dynamics 365 – Portals source code v8.3 – a one-time source code release that is customisable, but limits future migration opportunities and does not include support. The source code can be downloaded for free through the Microsoft Download Center­
Continue using legacy Adxstudio Portals v7 – if your organisation acquired legacy Adxstudio Portals v7 via a perpetual license, you may continue to use your current legacy Adxstudio Portals v7 product. If you use legacy Adxstudio Portals v7 under a subscription license, please contact adxquest@microsoft.com when your license is up for renewal.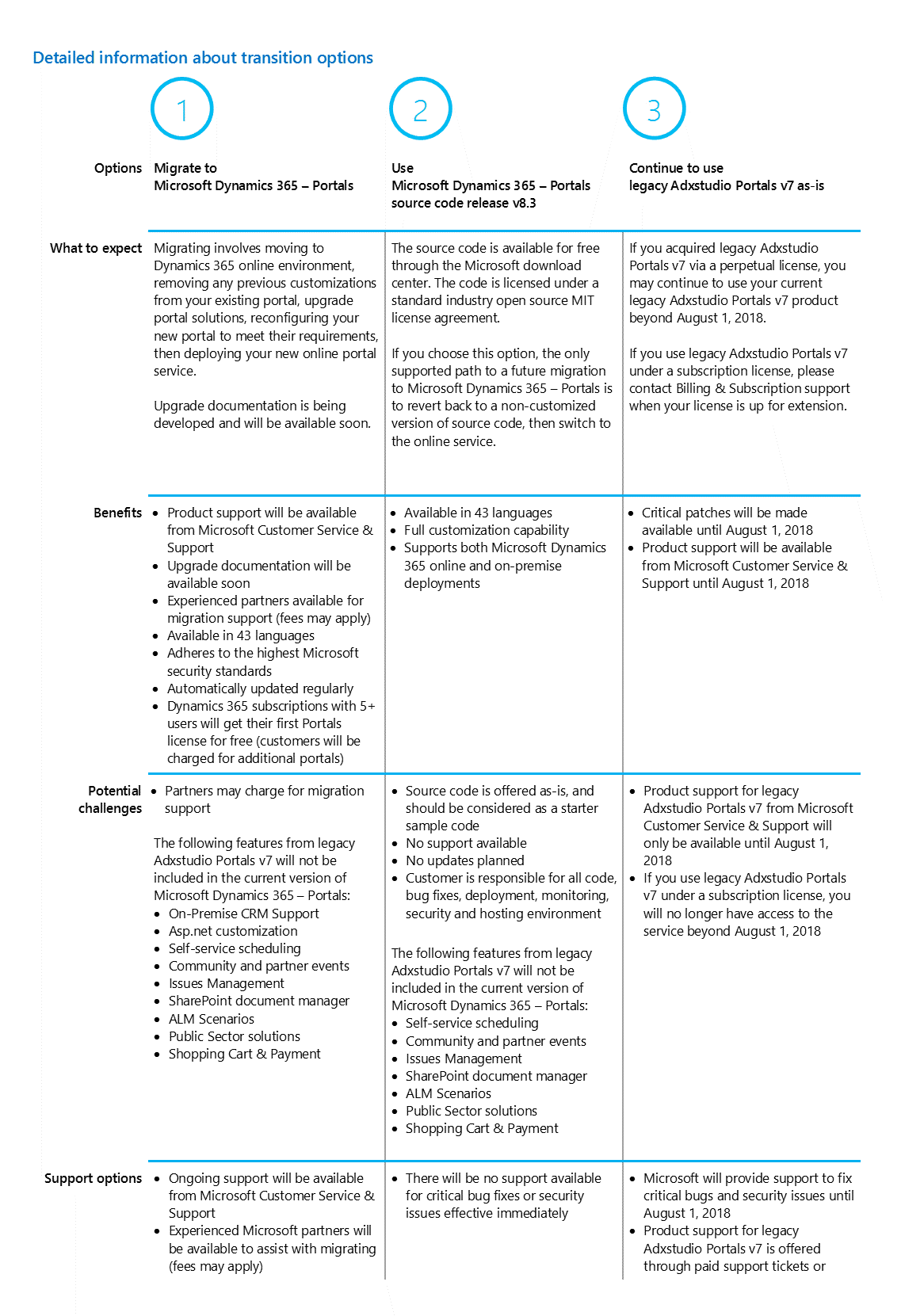 Microsoft Dynamics 365 – Portals features
Microsoft Dynamics 365 – Portals (v8+) includes the following list of new features:
Knowledge Management Improvements

Support of Knowledge Article entity
Support of knowledge categories
Product-based filtering
Content access level security
Faceted search results

Customer Support Improvements

Case deflection user experience in customer service user experiences
Replacing Notes with new portal comments entity
Generic Ratings and comments entities
New portal: employee self service

Online service

Automated deployment and management interface
Available in all Dynamics 365 data centers, including government cloud and German sovereign
Operated and maintained by Microsoft
Redundancy built into the service
Automatically upgraded when new portal versions are available with new features and bug fixes

Accessibility improvements
Performance improvements
Multi-lingual portals and support of 43 different languages
PRM improvements

Config-based implementation of Partner portal
Field and Project Service integrations
Deal Registration
Multi-partner collaboration
Partner recruitment and onboarding

Charts and dashboards
Portal activity reporting
Chat integration
Support for filename and description for web files in search results
Content creation wizard
Authentication Improvements

Single Sign-on configuration
Claims mapping to contact records
Azure AD-B2C support including multi-tenant authentication

Support for date-only and time zone-independent field types
Crimson - here to help you get more from your investment
If you want help making the move from Adxstudio, you can contact Crimson's team on 01675 466 477. We have a number of options available and can guide your organisation in getting more from your ongoing investment in Microsoft technologies.