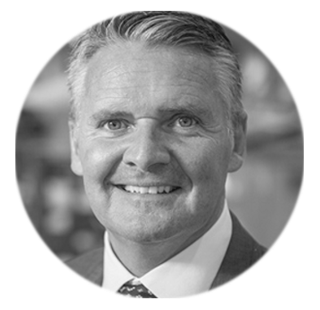 Charlie Blakemore, Transformation Director at BAE Systems Military Air and Information, is a firm believer in 'digital transformation'.
Speaking at the Crimson Innovation Conference on 15 March 2016, Blakemore explained why the defence sector must embrace digital technologies.
Blakemore has worked within the BAE family for a number of years, occupying a variety of roles including Transformation Director for Naval Ships and Managing Director of Global Combat Systems.
He has delivered a number of landmark transformation programmes including; the consolidation of the UK shipbuilding capability onto the Clyde, the building of three new state of the art facilities in Global Combat Systems costing £200million, and the design and manufacture of the largest ship ever commissioned by the Royal Navy – The Queen Elizabeth Aircraft Carrier. He is now is responsible for transforming business performance of an organisation with a £4.6 billion turnover and a 13,000-strong work force.
In his speech, Blakemore explained why digitisation was so crucial for BAE and how it had improved products, processes, networks, and helped in the delivery of strategic aims. He also revealed his methods for bring about digital change within BAE.
Why does the defence industry need to go digital?
The defence sector is effected by a wide range external influencing factors, forcing organisations to react quickly to remain competitive, innovative, and secure. Digitisation can make organisations smarter when responding to the following factors:
Fierce competition
Indigenous supply
Oil price
Political factors
Tight economies
Global Competition
Economy
Reputation
Collaboration
Continually changing threats.
Digital technologies are a key enabler for delivering business strategy across entire defence organisations. They help to improve business performance by helping to win more business, delivering better products, and increase value for money. According to Blakemore, digitisation has helped BAE to improve workforce engagement, boost efficiency, manage complex programmes, and improve customer focus.
BAE has used digital technologies in a number of ways. They have been able to extract buried data to create a dynamic, evidence-based, collaborative environment, which works to improve products and increase market differentiation. BAE has also used cloud technology to create a network between three UK bases, over which 2D and 3D design projects can be collaborated on and information can be shared.
Blakemore claimed that the defence sector needs to "keep the pace of change high" if it does not want to fall behind new technology that repeatedly transforms client requirements. Citing the increasing severity and complexity of cyber threats, he said: "We're fighting against some of the brightest brains that are trying to digitally disrupt what we are doing."
How to bring about digitisation within your organisation?
During his address, Blakemore shared his process for both project management and change management.
Project Management

Process

Tools

Initiation
Planning
Executing
Monitoring/controlling
Closing

Statement of work
Project charter
Business case
Work breakdown structure
Budget estimations
Resource allocation
Schedule
Tracking
Change Management

Process

Tools

Preparing for change
Managing change
Reinforcing change
Make it essential

Individual change model
Readiness assessment
Communication plans
Sponsor roadmaps
Coaching plans
Training plans
Resistance management
Reinforcement
Crimson is an IT consultancy, an IT solutions provider, an IT recruitment agency, and a Microsoft Gold Partner with offices in Birmingham and the City of London.