Watch our Microsoft Dynamics 365 2021 Wave 2 Update fireside chat video for more information about the new features in this release.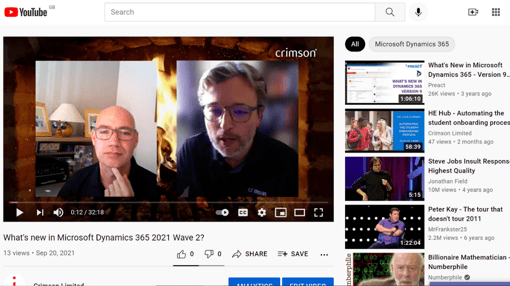 Early access – 2nd August
General availability – 1st October
Sales 
Dynamics 365 Sales will see further improvements with Microsoft Teams integration. Teams meetings can be scheduled when booking appointments in Dynamics 365, and users can also join meetings, update records, and sync Teams notes through Dynamics 365. Additional admin features will also see a new experience to manage integrations, plus setting Teams to private or public when created in Dynamics 365.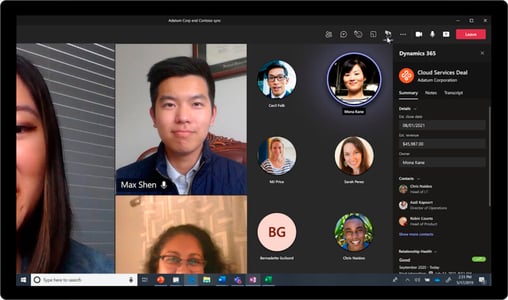 Further updates include @user mentions in a Dynamics 365 record timeline, that will notify the user through Teams chat. Users will also be able to search and filter Dynamics 365 records and share within a chat, as well as allowing users to update records in conversations or notes through a Teams chat, which then update the record timeline. Further Teams integration updates include launching a Teams chat by clicking a username in Dynamics 365.
Forecasting will also be improved, with managers able to view an individual forecast as one of their team, improvements to predictive scoring, AI to improve lead data quality, plus worklist and workspace intelligence. Users will also be able to filter from the forecast hierarchy and expand forecasts to yearly periods.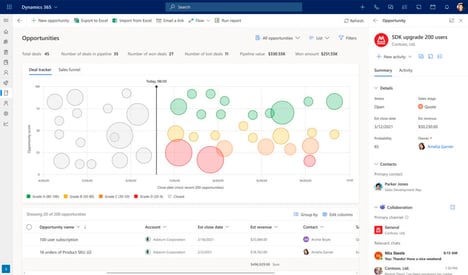 Reporting and dashboards will be enhanced, with the Deal Manager Workspace being generally available in this upcoming release. Improvements will be made to edit, filter, and search capabilities, bespoke configuration to suit the end user will be introduced, and hierarchy or date-based filter enhancements will be made. Out-of-the-box interactive charts will be joined by a new side panel, improving the usability.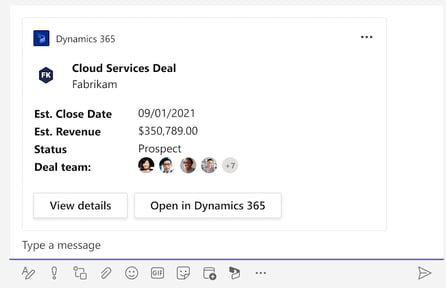 Lead generation and nurturing will be more effective, with enhanced integration with third-party services such as LinkedIn. Lead routing will be enhanced thanks to the ability to add lead/seller attributes and distribution methods, and users can query new leads that match a defined segment or criteria.
Finally, Dynamics 365 Sales will witness an enhanced mobile app experience, with improved engagement data from relationships with contacts and LinkedIn information. Records can be created easily within the app, and the user can view or add contacts straight from phone contacts or Outlook. The app will also be able to scan handwritten notes (and then make suggestions from these notes), create activities after a phone call, and automatically transcribe a Teams call.

Field Service 
Dynamics 365 Field Service will also see Teams enhancements, with Work Order management embedded into the Teams app. Users can then chat to colleagues in the Work Order, and if the chat is linked to a case, and if it is converted to a Work order, the chat will be automatically linked – all without needing to switch from the Teams app.
A new customer experience homepage will also be included in the Release Wave 2, which will serve as a centralised hub for customers to view their service history, scheduled bookings, and service visits. The user will be able to track the technician's location and will be accessible on any device. As the homepage is built on Power Apps portals, it will be customisable to maintain brand consistency.
Thanks to the new customer experience homepage, customers will now be able to schedule service visits. Various timeslots will be offered to customers based on the available resources and the location, and then a suitable technician will be automatically assigned to optimise for minimum travel. Customers will also be prompted to provide pre-service customer information as part of the scheduling request, giving the technician additional support. The new location sharing and analytics capabilities mean that dispatchers can schedule service appointments based on nearby workers, and customers will receive accurate predictions of the technician's arrival times.
A new Work Order form includes an updated tab order, Work Order summary, and an activities timeline. A unified view of service tasks will also feature in the release. Schedule boards will also be enhanced, helping to find the best available resources for jobs. As these settings can be made available on the schedule boards, users can configure their tabs and don't need to switch back to the old schedule board. Custom fields on a Work Order or requirement can be displayed as a filter on both the schedule boards and the booking information.
Additional enhancements to Dynamics 365 Field Service include the use of API's to update work hours, and the deletion of work hours to accommodate holiday or half days. Work hours will also be maintained across multiple systems.
The Field Service Get Started hub will feature a carousel view that introduces new features, supporting videos, and links to documentation.  
Marketing 
One key area of Dynamics 365 Marketing that has been updated is integration with Microsoft Teams. Event and webinars organised through Teams will be able to feature a branded registration page within the app. These registration pages are natively integrated with Dynamics 365 Marketing to handle registration tasks. Journeys can then be triggered based on the behaviour through Teams, such as attendance actions.
Integration has also been improved for SMS providers, Twilio and Telesign. The new integration means SMS messages can be sent through Dynamics 365, via the two providers.
Also included in the update is the ability to segment using other entities other than contact. This will allow for attribute behaviour data to be used in audience definitions for leads and custom entities as well as contacts.
Other updates to Dynamics 365 Marketing include suggested content ideas in emails, using data within Data Lake to build segments, a unified customer view via Dynamics 365 Customer Insights, and the ability to trigger flows from customer journeys (and vice versa).
Customer Voice 
Customer Voice will feature a variety of updates to navigation, appearance, and usability. The changes will seek to make the feedback experience better for customers, while increasing the amount of survey responses.
Recipients who haven't completed a survey after a predefined number of days can now be sent an email reminder. Partially completed survey responses will also be able to be collected and reported, to increase the number of completions. Follow-up actions will then be able to be configured based on the responses of completed surveys.
Surveys can be automatically pre-filled with answers from Azure AD or Dynamics 365, such as email addresses to increase ease of completion. Customer Voice will also be able to integrate with Dynamics 365 Marketing customer journeys. Survey responses can now trigger a Power Automate flow from Customer Voice.
Further improvements have been made to text analytics, as sentient analysis can automatically run on text responses. Personalisation has also been improved, with cascading questions, conditional filter options based on previous answers, customer survey headers, and the ability to upload .csv files of customer data to personalise surveys.
Access will also be improved, with multiple ownership for shared projects, report-only access, and separate survey editing capability.
Customer Service 
Updates to Dynamics 365 Customer Service will now allow customer service agents to chat with contacts using Microsoft Teams directly through Dynamics 365. Users will also be able to access Teams chat lists within Dynamics 365, plus link and unlink chats to cases. AI driven suggestions of similar cases will assist customer service agents and will show them which users worked on the case for additional support.
Knowledge management has also seen improvements, with the addition of AI suggestions for knowledge articles based on keywords and descriptions. When writing the articles, the article description will be automatically be suggested based on the article content. For external articles, there will be a visual identifier to separate them from internal content. The publication process for the knowledge articles has also been improved, and the knowledge article command bar has been re-ordered based on frequency of use.
Customer feedback can now be compared over a period, assessing monthly, quarterly, and annual performance trends. There will also be insights into the relative importance of survey questions in comparison to overall feedback metrics – helping to identify key drivers.
Deprecated Features