Microsoft solutions such as Teams, SharePoint and OneDrive have not only become more popular during the coronavirus pandemic, they have expedited remote working for businesses, schools, universities, local authorities and community groups. Without Microsoft's cloud-based apps, working during the pandemic would have been a very different story.
However, Microsoft's products weren't perfectly suited to businesses who solely work from home. Microsoft found that six key areas of employee experiences were suffering: wellbeing, connection, focus, empowerment, growth, and purpose. Employees were found to have increased levels of stress, disconnection and disengagement, and an agile and flexible alternative was required to improve working from home sustainability and cohesion.
Microsoft Viva, which launched on the 4th of February 2021, is all about empowering employees – both as teams and individuals. The integrated employee experience, which is used predominantly through Microsoft Teams, manages communication, knowledge, learning and insights to keep teams connected. The everyday platform is integrated with Microsoft 365 apps to create a simplified, natural-feeling workflow which acts as an ecosystem. Powered by people, it provides a meaningful experience to users to help them bring the best version of themselves to work.
The new Viva platform is split into four sections: Viva Connections, Viva Insights, Viva Topics and Viva Learning, and each section aims to reduce employee pain-points while working from home.
Here are our top five aspects of Microsoft Viva:
Refocus on wellbeing and mindfulness
Viva Insights helps employees to improve work habits and balance productivity. Focus-time, coaching and mindfulness are measured, with the option for virtual commutes, meditation, and quiet hours. A kudos tracker helps to remind users of the praise they have received and given over the past month and a 'how are you feeling' widget records employee satisfaction.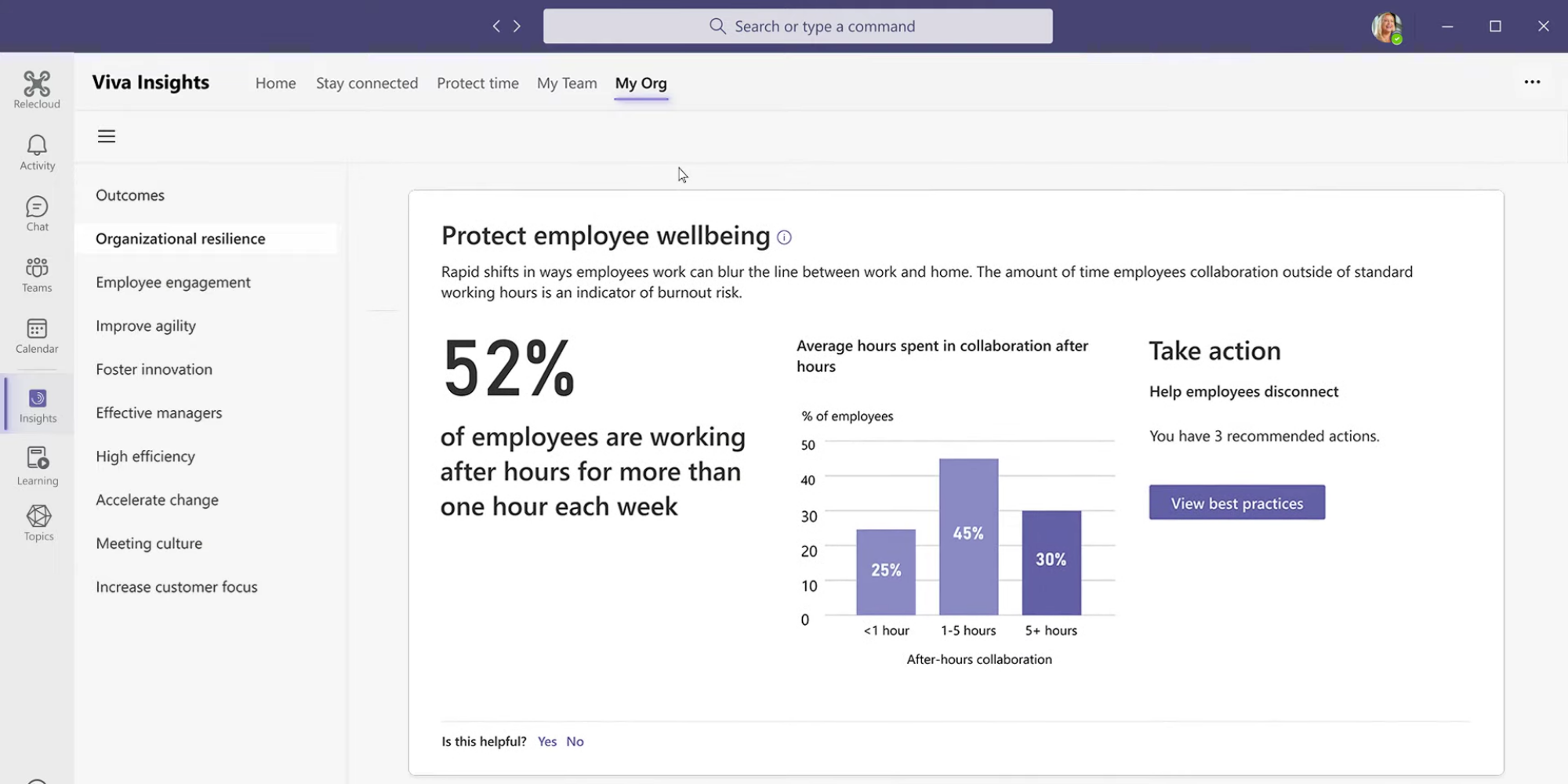 Effective Connections
To keep employees engaged and informed while remote working, Viva Connections includes a new dashboard and timeline that is personalised for each employee. Company resources, tools and news show up on these as well as conversations. While Microsoft Viva will lead to significant changes within the Microsoft Teams app, the teams, instant message, and video call functions will remain the same.
Personal and team metrics
In a bid to reduce stress and prevent burnout, Viva Insights provides data-driven analytics and statistics to improve work habits across an organisation. Managers and company leaders can view charts for team engagement, quiet hours, and capacity, as well as the amount of 1-2-1 coaching time per week. By tracking the amount of time spent in meetings, replying to emails, instant messaging and after-hours calls, managers gain a deeper understanding of time spent in their department. Viva Insights also tracks team cohesion and provides best practice advice for the whole company. It also measures the number of conflicting meetings and poor calendar habits across the organisation, as well as collaboration time.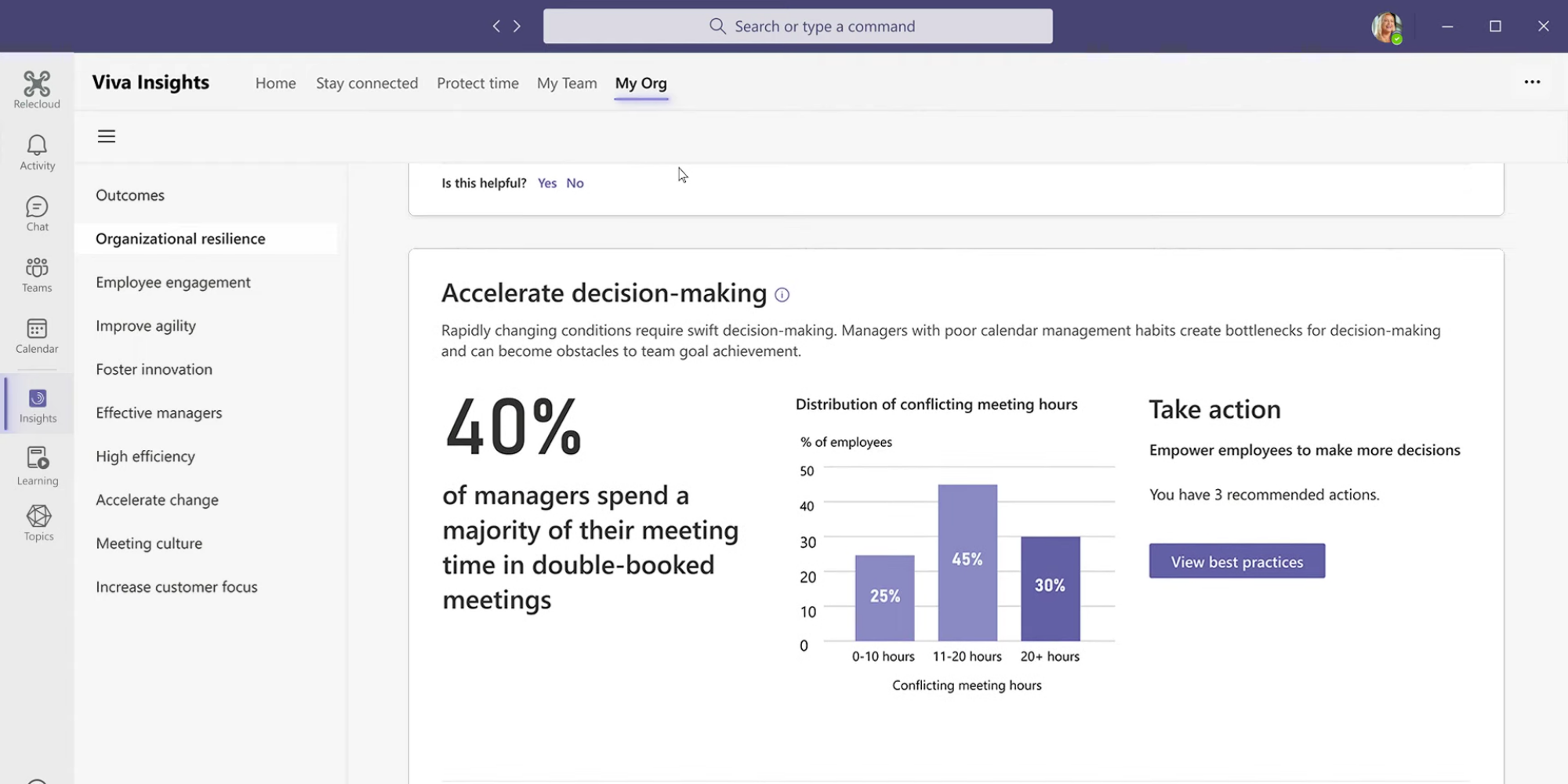 Everyday learning
Another key aspect of Microsoft Viva is the importance of skills, learning and training. Viva Learning makes training a natural part of an employee's day, by collating internal learning content as well as content from Microsoft and 3rd party apps such as LinkedIn. With the ability to share and discuss the topics, users can view recommended and assigned sessions.
Viva Topics helps employees to harness knowledge while using the app, as AI-powered solutions automatically organise content into related topics and processes. Acronyms and technical words can cause confusion and communication issues, so Viva Topics allows users to hover over words to understand the meaning behind them or click on the word for more detail.
Private and secure
Insights and information gathered by Microsoft Viva can only be seen by the individual user, plus manager or leader insights are aggregated and de-identified for privacy, while allowing them to see the bigger picture. Messages, files and teams still require user permissions to access, and the dashboards and timelines are personalised and unique, so your data isn't shared unless you choose to.
For more information about recent Microsoft updates, get in touch.