Why Cyber Security is a Continuous Effort
In June, Crimson's CIO Search practice hosted a networking dinner and discussion event at L'oscar London hotel, gathering technology leaders from a range of industries such as healthcare, higher education, and manufacturing. One of the topics raised focused on how IT leaders balance growing cyber threats with budget pressures. In this blog, we'll share their expert solutions.
How do you get the whole business behind cyber security?
Unfortunately, many believe cyber security to be an unnecessary cost – after all, it's not a problem until you're attacked. To get the whole business on your side, you need to show the tangible risk, impact, and monetary and time cost of ignoring cyber security.
Here's how:
Share case studies

and b

uild a story based on a fictional cyber

attack

Carry out penetration testing with

government-sponsored hackers to

showcase your weaknesses

Demonstrate the costs of repairing

systems, networks, and devices

after an attack

–

on average, costing a

small business around £1,100

and approximately £4,960 for large and medium-sized businesses
You should also emphasise the potential loss of business, damage to your reputation, and loss of trust as a cyber attack shows your systems weren't sufficient enough. It's possible you might experience downtime or (potentially irrecoverable) theft of corporate and financial information, too.
Furthermore, some B2B customers set minimum standards of cyber security credentials for organisations they work with – for instance, the NIS Regulations and other government regulations. Share the following to demonstrate consumer demands and business expectations:
Statistics like these will get across the need for cybersecurity to those in your business and the boardroom.
The 2022 Digital Leadership report analyses some of the catastrophic effects of a major cyber attack.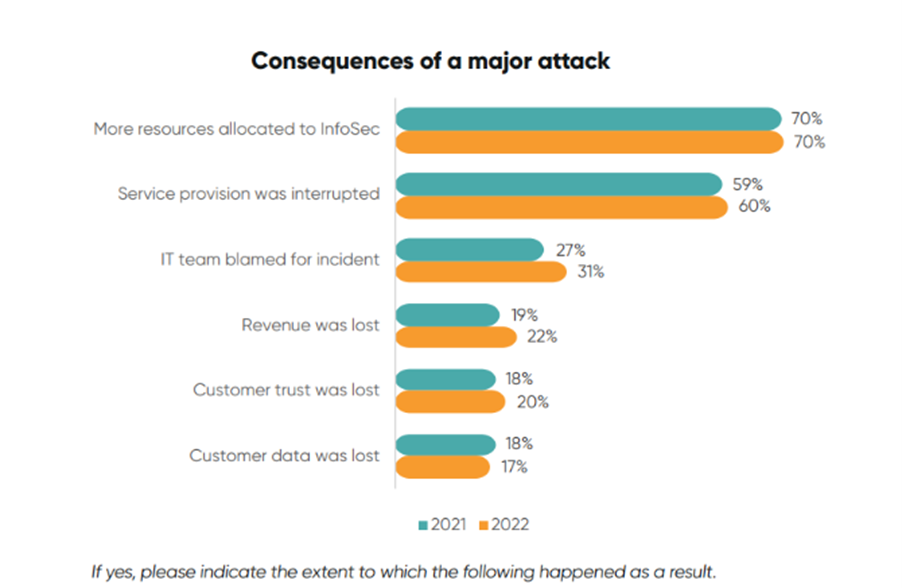 How do you explain that cyber security is an ongoing responsibility?
It's like owning a car. You must stay on top of repairs and replace the model when it no longer serves your needs. It's key to get across that cyber security isn't an end destination but a continuous process. You might introduce the system once, but it will need reviewing and further investment.
Sharing recent statistics will highlight the importance of maintaining your security system, with 32% of businesses and 24% of charities suffering a cyber breach or attack in the last year. And it gets worse for bigger businesses: 59% of medium-sized companies and 69% of large organisations have faced a breach or attack over the past 12 months.
Cyber threats continuously evolve, and so should your defences. Walk them through a bit of history from 1998's Solar Sunrise attack to the IoT-based threats today. Explain how often businesses should replace systems and review their cyber strategy – at least once a year. Unfortunately, many organisations fail to do so – only around a third in the last year.
Cyber security recruitment
According to the 2022 Digital Leadership Survey, cyber security is the most wanted skill set, with the industry being short of 3.4 million cyber security professionals. In February 2023, Gartner reported that by 2025, 25% of cyber security leaders would pursue different roles due to workplace stress caused by the lack of support and budget from the wider business. Therefore, it's increasingly difficult for organisations to recruit cyber professionals and avoid churn.
Crimson can help you keep up with the dynamism of the sector by connecting you with cyber security professionals and enabling you to explore the latest trends. We support global clients, such as Ardagh, with their cyber security recruitment, including permanent and contract IT recruitment. Read the latest case study.
If you're looking for a service solution, Crimson is part of the Nash Squared Group, which offers a virtual CISO service.
To see how Crimson can support you with talented cyber security professionals, tell us about your requirements today.
Find out more about our CIO Search practice.