For many years Crimson has recommended ClickDimensions when clients have wanted a marketing platform. ClickDimensions remains a robust solution with many of the features most organisations use day-to-day, including email marketing, landing pages, and lead management. With nearly a decade of experience serving Dynamics marketers, ClickDimensions know what marketers want to achieve, and has the expertise to provide it for their customers.
Until now, Microsoft has missed the mark for most midsize organisations, instead touting solutions better suited to international business-to-consumer marketers. But with the introduction of Microsoft Dynamics 365 for Marketing, Microsoft has finally started to take the needs of modern digital marketers seriously.
In this blog post, I'll share my views – as a marketer – about why I believe it's now time to add Dynamics 365 for Marketing to your shortlist of marketing automation tools.
It's no secret that Microsoft has been working hard to mature their marketing solution; following the acquisition of several products, Microsoft has hundreds of developers working on the app.
Here's a summary of current Dynamics 365 for Marketing features, and how they compare to ClickDimensions.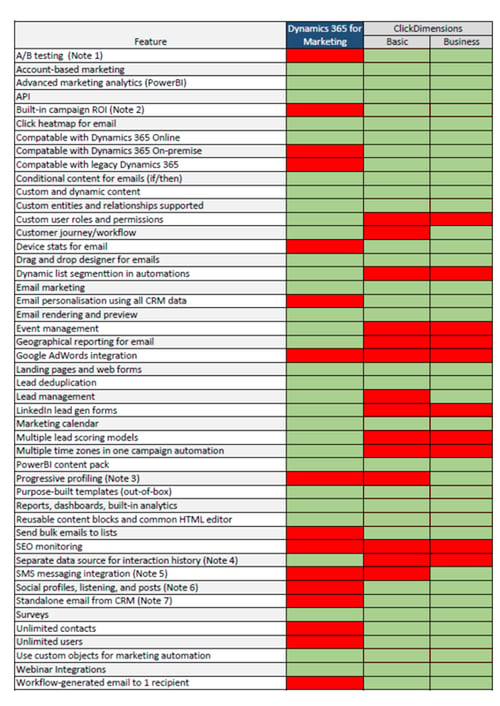 Notes
Roadmap Autumn 2019
Roadmap Autumn 2019
Find more leads with AI-driven insights embedded inside Microsoft Dynamics 365 for Marketing
Marketing organisations can leverage the power of Customer Insights to create and act upon strategic segments. Dynamics 365 Customer Insights (in Preview) - link
Cloud architecture/Embedded intelligence
- D365 for Marketing: Disconnected from Dynamics 365 and built entirely on dedicated high-performance Azure microservices. Marketing insights derived from interactions data stored separately in Azure services.
- CD: Same cloud infrastructure as Dynamics 365, everything in the transactional system. Reporting and analytics dashboards run off of interactions and transactions stored in Dynamics 365. Can affect performance.
- However this can lead disconnected data in Dynamics 365, resulting in less personalised and less sophisticated marketing campaigns.
3rd Party, eg TeleSign - link
Roadmap Autumn 2019
Pricing
Many of my consulting colleagues have been wary of the pricing model for Dynamics 365 for Marketing as it's based on the number of active contacts in the system. Active contacts could be people who are receiving your emails, responding to surveys or visiting your website (and therefore having their activity tracked). However, this pricing model isn't a new concept for marketers, and Hubspot has been using this pricing model for a long time. If you compare pricing to Hubspot, you'll find Microsoft is the more affordable option.
It's true that if you allow your database to get out of control, you could end up paying more than necessary for Dynamics 365 for Marketing. However, with new GDPR rules, good governance should help to regularly prune your contact database and prioritise the right people to stay in contact with. Indeed, the automation rules in Dynamics 365 could actually help you with such pruning.
The cost of Dynamics 365 for Marketing also depends on which version of Dynamics 365 is currently being used. Not only does this affect the price, it also changes which solution is most appropriate. The type of Dynamics 365 license and the number of users and contacts also affect the price, as well as how many of the contacts are classed as marketing contacts.
ClickDimensions, on the other hand, uses a different pricing model, based on the number of emails you send. Clearly, depending on your email usage this may or may not be a lot more cost-effective option for you. Users and contacts are unlimited in both their basic and business plans. ClickDimension's plans are much easier to understand, and customers know exactly what they get when they upgrade.
So, what are the advantages of Microsoft Dynamics 365 for Marketing?
There are few stand-out features in Dynamics 365 for Marketing in my view that may well resonate with your marketing ambitions:
Campaign workflow and automation. The campaign building tools within Dynamics 365 for Marketing will really help marketers stay organised. Marketing automation can quickly get into a mess if you're not careful; with automation rules triggering emails and tasks, marketing teams can easily become confused about who is receiving what and when. Worse, recipients will tune out from a deluge of messages if you're not careful. Microsoft has clearly put a lot of thought into this problem, and their visual planning tool really helps to understand your workflow and trigger points so that you can create more personalised experiences for the buyer that follow a logical route through the messy modern buying cycle.
LinkedIn integration. For business-to-business marketers, LinkedIn is massive and proving to be a very effective platform for reaching business decision-makers. Microsoft's ownership of LinkedIn means that Dynamics 365 will always have an advantage over other platforms in terms of integration features. By being able to synchronise your data with LinkedIn will prove invaluable in enriching the data you're gathering and building multi-channel email campaigns.
Event management.

If you run lots of events, you'll appreciate the event management tools built inside Dynamics 365 for Marketing. Event management isn't a deal-breaker for most marketers, though, as Eventbrite is a good product. Nevertheless, any opportunity to abandon the tangled web of apps marketers now rely on to do their job has to be a positive move. The event management tools in Dynamics 365 for Marketing are better suited to large conferences, rather than smaller, more intimate events.

More intelligent sales and marketing alignment. Integration is Microsoft's trump card because if both your sales and marketing teams are using Microsoft Dynamics 365 then the potential to use data more effectively has exponential value. At a simple level, having the ability to alert salespeople when their prospect is visiting a pricing web page is compelling. But by combining automation and Microsoft's machine learning, you can open up the ability to present tailored messages to prospects that actively move them along the buying journey.
A quick summary of the look and feel of the product can be seen here:
What are the advantages of ClickDimensions?
Email marketing. ClickDimensions main strength is its email marketing function. Sending 6.5 million emails a day, with nearly 100% delivery rates, ClickDimensions is ideal for companies using email marketing as the main marketing tactic. While Dynamics 365 for Marketing also has the capability to send emails, ClickDimensions can also send one-off emails, sales-initiated emails from CRM and workflow-initiated emails.
App Integration. Like Dynamics 365 for Marketing, ClickDimensions can integrate with LinkedIn, synchronising data and building campaigns. However, while Dynamics 365 can integrate with LinkedIn, Twitter and a couple of other external tools, ClickDimensions can integrate with several additional external tools, including Eventbrite, Wordpress, RSS, GoToWebinar, Facebook, bulkSMS and many more. These are tools that ClickDimensions know marketers use and value.
Event management. While ClickDimensions doesn't have it own event planning tool, it can integrate with Eventbrite. This widely popular event management website is ideal for virtual or 1-day event and is commonly used by marketers.
Webinar integration. Another external tool that ClickDimensions can integrate with is Zoom. As video calling and online events grow in popularity, so do video conferencing tools. By integrating Zoom, the system automatically syncs with upcoming Zoom webinars, creating leads or contacts for registrants. This not only streamlines the event planning process, but also saves time when dealing with customers/clients virtually. While Microsoft Dynamics 365 integrates with Microsoft Teams, ClickDimensions works seamlessly with non-Microsoft technologies allowing more flexibility in webinar platform.
So, should I choose ClickDimensions or Microsoft Dynamics 365 for Marketing?
The comparison between the two products comes down to, in my view, your organisation's marketing maturity and its vision for how far it wants to take its sales and marketing function. If you see marketing as a chance to blast out some emails, set up some conversion forms on your website and do some basic tracking, then ClickDimensions remains an affordable, sound option.
Suited to businesses that focus on email marketing, social media, and webinars, ClickDimensions offers tools and marketing services from the same vendor. It is also a better choice for those using on-premise or partner-hosted Dynamics, or a legacy version of Dynamics.
If, however, you recognise the value of data and the potential of artificial intelligence, then you will want to consider the digital platform your business is building that allows data sharing between functions. Microsoft Dynamics 365 for Marketing isn't perfect – some areas aren't as slick to use as competitor products - but it's hard to argue with the overall proposition and the direction of travel that Microsoft is taking.
The public often imagines the age of artificial intelligence to mean humanoid robots serving us, but the reality is very different: Dynamics 365 is providing the building blocks for a very sophisticated sales and marketing automation engine that uses data to better understand how to interact with your contacts and serve up the information they need to make a buying decision. And that's the future of AI that Microsoft can afford to invest billions of dollars into each year to make sales and marketing robots a reality.
To discuss the best marketing automation tool for you, get in touch.