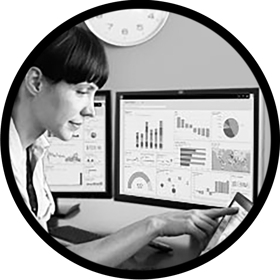 In November 2015, we reported on Microsoft CEO Satya Nadella's announcement that the Microsoft's public cloud would be arriving in the UK in 2016.
Speaking at Future Decoded, Microsoft's London Conference, Nadella revealed the progression of the software giant's public cloud into Europe. Two data centres have already been built in Ireland and The Netherlands, and a third development will take place in the UK in the new year.
So with cloud technologies clearly a priority for Microsoft, we reveal which of their cloud solutions will be leading the way in 2016.
New Enterprise Features For Office 365
According to Microsoft "These new services represent the single most significant release of new enterprise value in the history of Office 365" as they promise to provide new capabilities for meetings, voice technology, business intelligence, and security.
The latest iteration of Office 365 provides users with the most complete meeting solution ever experienced. Users can now take advantage of Skype Meeting Broadcast, Public Switch Telephone Network (PSTN) Conferencing, PSTN Calling, and Cloud Private Branch Exchange through one integrated platform.
Delve analytics reveals insights about time, task, and customer relationship via interactive dashboards.
Advanced security and compliance. Customer Lockbox offers customers full control over access to their data in Office 365 by giving them ultimate approval rights in the rare instances when a Microsoft engineer must request access to the service. Office 365 Advanced eDiscovery brings machine learning and text analytics that reduce the costs and risks inherent in managing large quantities of data for e-discovery.
Comprehensive Advancements For Dynamics CRM 2016
Billed as Microsoft's "most comprehensive CRM release to date", Dynamics CRM 2016 has significant productivity, intelligence, mobility and service enhancements to help businesses and customer-facing employees.
Business intelligence (BI) is fast becoming the critical component for many businesses' 2016 customer engagement strategy. Dynamics CRM 2016 delivers deeply analytic data insights which enable sales, marketing, and service professionals to make informed decisions and plan action tactical actions.
Azure Machine Learning models enable Dynamics CRM 2016 previews capabilities such as intelligent product recommendations which empower sales reps to personalise up-selling and customer service resolutions.
Microsoft Dynamics 2016 now provides full offline capabilities for those working on mobile devices across all platforms. It also has the ability to create task-orientated mobile apps that improve the efficiency off business activities like meeting follow-ups. The new Cortana integration reveals data to support your business in driving toward positive interaction.
Sign up for a FREE 30-day trial of Microsoft Dynamics CRM 2016 online here. It's on us!
Introduction Of Uncomplicated PowerApps
PowerApps is Microsoft's new service that enables employees to create useful apps which connect business systems in a secure way, and are easily shared with co-workers. Businesses can also create a variety of employee-facing apps including simple employee surveys and sophisticated critical apps that connect to business systems and cloud services, and can run on any device.This service has built-in data connections Office 365, Dynamics, Salesforce, Dropbox, OneDrive, SharePoint, SQL Server, Oracle databases, SAP and more. Additional Power App Benefits include:
Normal people have the ability to create apps that work on any device without needing coding knowledge.
Professional developers will be able to use the additional exposed data and services to innovate native web and mobile apps and APIs with Azure App Service.
IT professionals will have increased abilities to manage organisational data and app sharing in a controlled and secure way.
As a Microsoft Gold Partner, Crimson supply and integrate off-the-shelf Microsoft applications and create bespoke solutions built on Microsoft .Net technology for leading UK companies. If you would like to find out more about the latest Microsoft developments call our IT consultants on 01675 466 477 or email marketing@crimson.co.uk.