Microsoft Dynamics 365 AI for Sales – Relationship Assistant
As part of their heavy focus on developing Artificial Intelligence within their products and services, Microsoft has implemented a new suite of features called 'Embedded Intelligence'. This new suite of features allows you to make the most out of your Dynamics 365 by continuously analysing crucial customer interaction data to help you choose the best path forward for your business; based on already existing data.
As we all know, it can be far too easy to get caught up with certain tasks or with your heavy hitter customers and completely gloss over some of the less 'significant' tasks or customers. The relationship assistant helps you to identify the neglected areas of your business and encourages you to take action.
So, what features are actually included in Microsoft's 'Embedded Intelligence'?
Currently, Embedded Intelligence consists of three features:
Relationship assistant.
Email engagement.
Auto capture.
The focus of this blog will the relationship assistant.
What is the relationship assistant?
Remember Clippy, Microsoft's Office Assistant that people loved to hate? Well, think of relationship assistant as Clippy for Dynamics 365, however (and you'll be glad to hear it) relationship assistant is much better.
The main purpose of relationship assistant is to analyse your records, activities and communications with customers to squeeze the most out of the right information at the right time. User's daily actions and communications are analysed to provide insights on what should be focused on that day. For example, it may identify that a contact has been inactive for a while and would prompt you to reach out to them to maintain a good relationship. This relationship assistant can keep track of opportunity close dates, task deadlines and even news about competitors that you may be able to take advantage of.
How the relationship assistant can help you.
The result of all of this analysis is displayed through the use of action cards, which can be located in dashboards as well as within account, lead and opportunity records. Here's an example of what the relationship assistant looks like in a sales dashboard: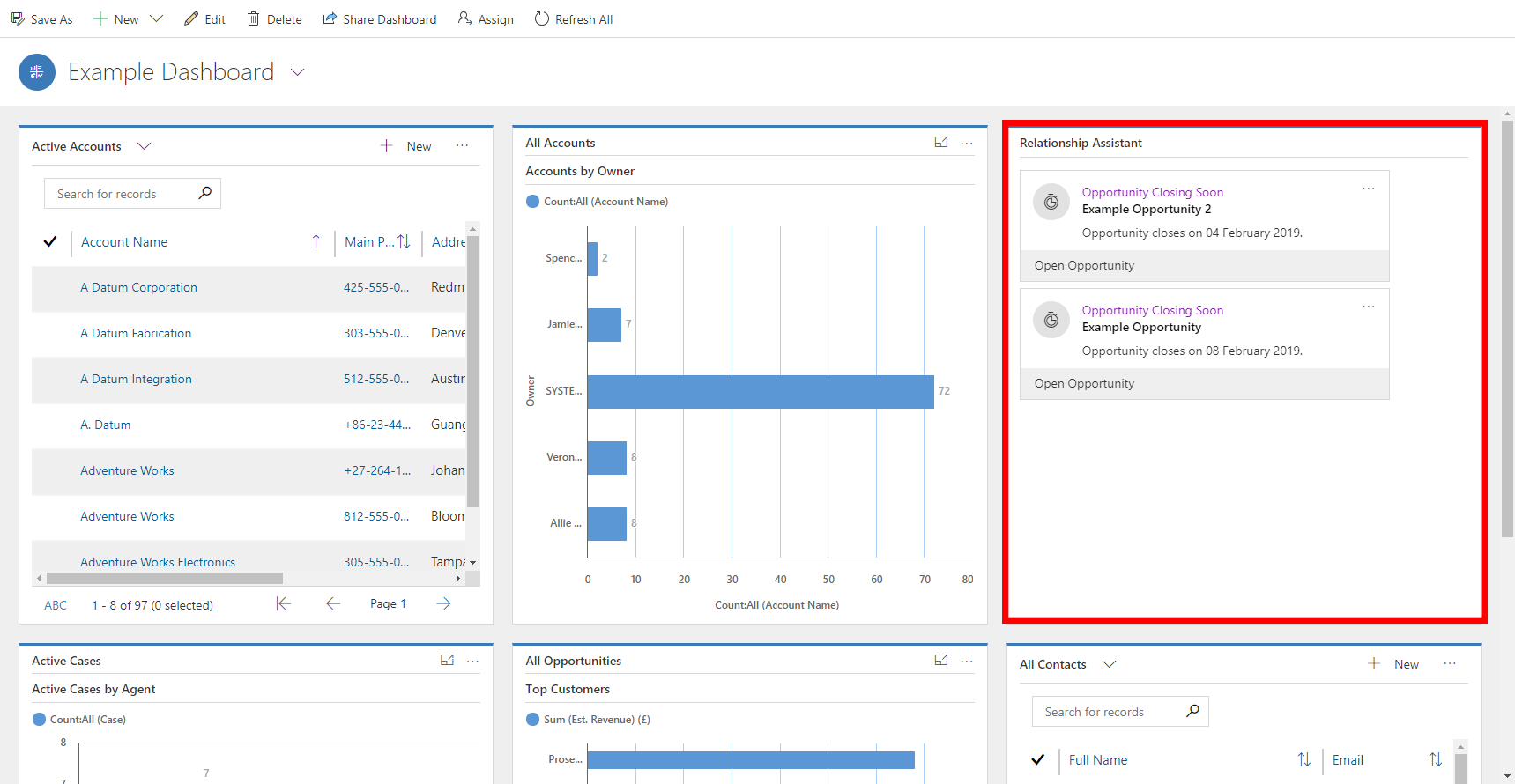 As you can see, the relationship assistant is seamlessly integrated into the Dynamics 365 interface and can be placed within a dashboard in any position that suits you. The above example highlights that two opportunities are approaching their closing deadline (the amount of days before you are notified can be changed).
The relationship assistant also appears in other areas, such as in opportunity records, account records and lead records.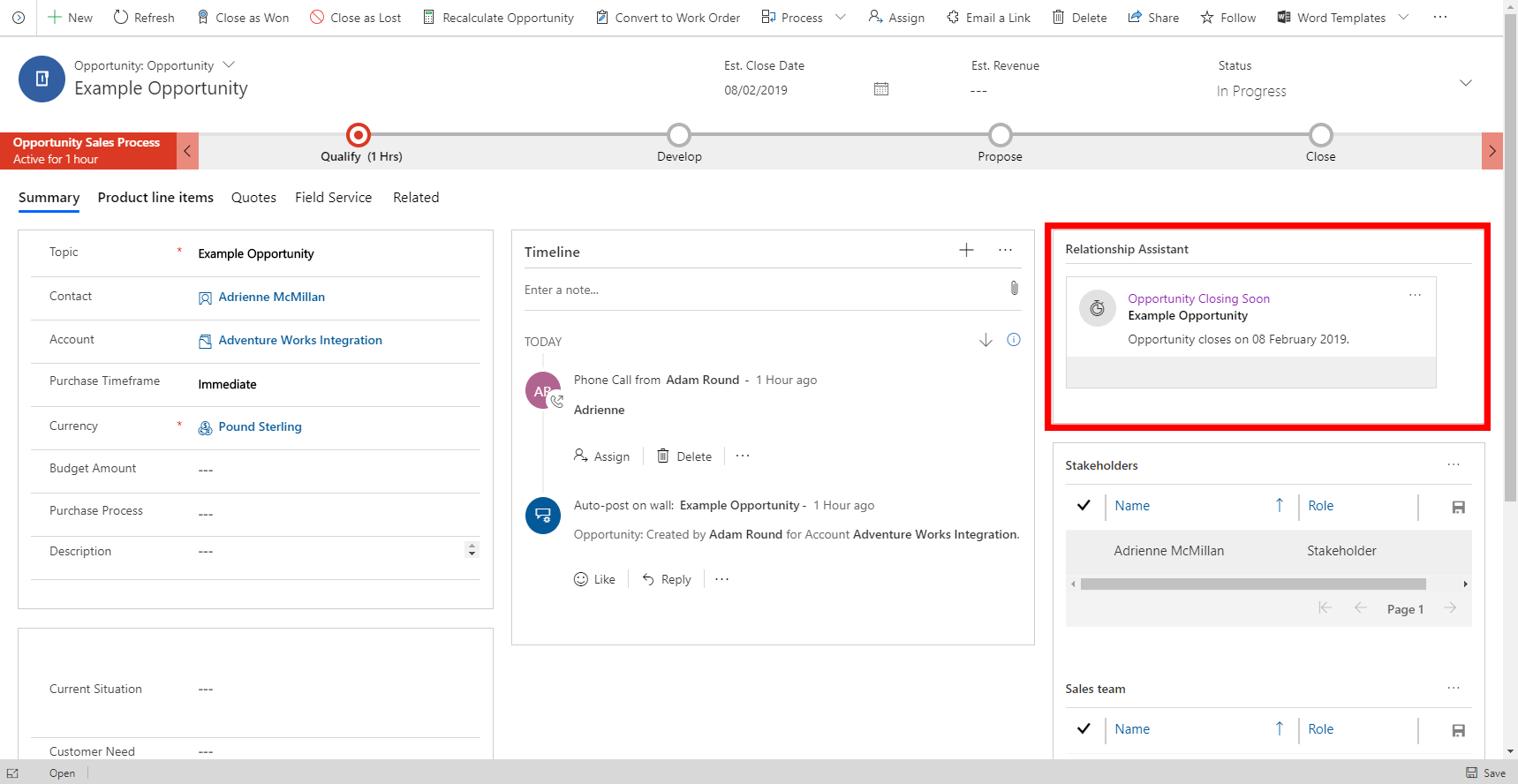 How can you configure the relationship assistant?
The relationship assistant can be configured directly within Dynamics, the same way that you would configure any other part of your Dynamics environment. Located under the 'Sales AI' setting, you are greeted with the following configuration options:

These options allow you to configure the relationship assistant to your liking, by selecting which cards you want to appear and which ones you don't. This area is also where you can select how many days prior to an opportunity closing you want the relationship assistant to notify you.
Make the most out of Dynamics 365 and relationship assistant.
AI is certainly no longer just a buzzword within the technology industry, it's obvious that it means business and is here to stay. Therefore, if you want to keep up with your competitors (who may already be taking advantage of AI), you'll need to ensure that you stay ahead of the curve.
If you want to find out how your business can further benefit from Dynamics 365 and its suite of AI driven features, feel free to sign up to our Assess2Progress workshop or our Art of the Possible workshop.