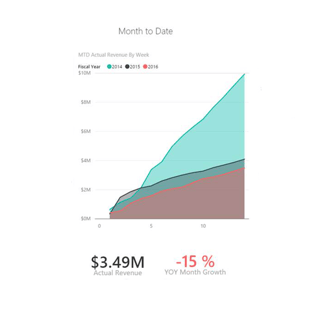 On 20 May 2016 Microsoft revealed a public preview of two new sales management solution templates for Power BI. One that works with Microsoft Dynamics CRM 2016 and another that works with SalesForce.
According to Microsoft, these templates have been designed to help customers "quickly deliver powerful analytics and visualizations on their source applications". They aim to simplify the process of building Power BI solutions onto your applications and guide you when creating extensive reports on your sales data.
The sales solution templates include three components:
The ability to extract from the source application. They use an initial full load and subsequent incremental loads (for new and amended records) to get data into a datamart or data warehouse.
A pre-configured database and Power BI model with extensible schema and calculations for measures and KPIs (key performance indicators) from the domain.
Quick start tools like a default set of Power BI reports that work out of the box and can be extended.
Customers will use the sales solution templates to achieve different goals from users of the Power BI content pack. These packs help users find value in their data in minutes and are directly bound to the source application. Solution templates differ because they help users to set-up a full data mart that can be customised to match unique data sources and business processes.The data within these warehouses is processed and represented in stunning infographic reports, revealing past sales performance and predictions for the future.
Why use sales solutions templates?
They are extensible – Templates are used to help CIOs meet their organisation's unique Micrsoft Dynamics CRM requirements.
They are scalable – You can upload a large bulk of initial content and incremental refreshes keep your reporting accurate, even with very large Microsoft Dynamics CRM implementations.
They are secure – The templates leverage key aspects of the Microsoft Dynamics CRM security level, so users can only see data that there are permitted to see.
If you would like to find out how to build Microsoft's new sales solution templates for Power BI, check out this excellent blog post by Richard Tkachuk, Principal Program Manager at Microsoft.
Crimson is an IT consultancy, an IT solutions provider, an IT recruitment agency, and a Microsoft Gold Partner with offices in Birmingham and the City of London.